Latest Happenings
40 Years of Fun with Anne Adams
August 2, 2023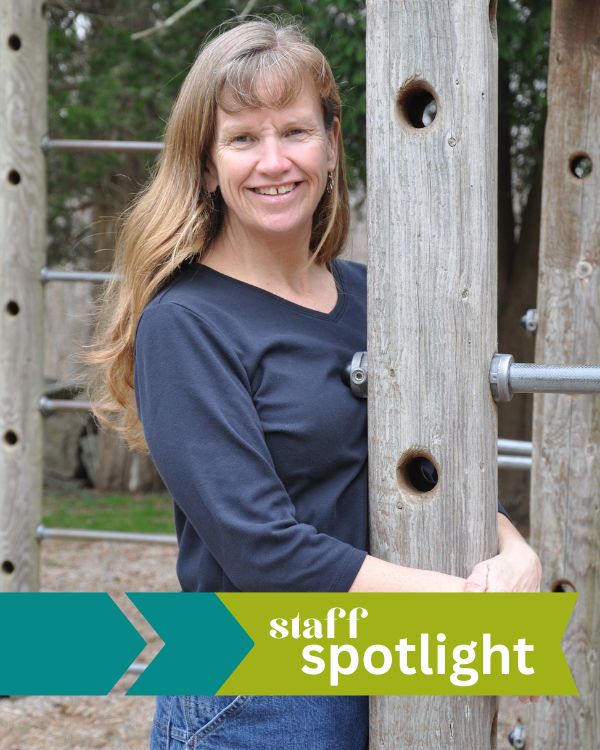 In June of 1982, when she was about to become a senior in college, Anne was recruited by her good friend and fellow softball player Sharon Butcher (our Principal). In those days, while still in school full time, she worked four shifts every weekend in the residential program from Friday to Sunday. In a couple of short years, she moved into the Education Program and became the PE teacher going on to teach over 30,000 classes in her career.
In college, Anne (Costello) was not just a softball player, but a superstar pitcher and first baseman. Her team won two national championships, she was an All-American, a Golden Glove recipient, and is in the Eastern CT College Hall of Fame. In her senior year, at a finals game, she was not scheduled to pitch – but right before the game the coach told her she was pitching because she was a "lefty" and the other team was not expecting that – she went on to pitch a four-hitter and win the game.
When asked why she decided to make her work career at Waterford Country School, Anne said, without hesitation, that "building relationships with the kids was the best part." She ran each class, not based upon a required, established PE curriculum, but based upon what would engage the kids, get them involved, and meet their needs. Any time you visited her class, you would see her actively involved with the kids. Ping pong, dodgeball, board games, arts and crafts, hiking, volunteering… anything that would get them involved, and they loved it. As her relationships with them grew, Anne was much better able to help them with the social and emotional struggles that led to their placement at Waterford Country School.
It was not easy for a teacher in her early days. Her gym was a small converted dairy barn with poor heating and lighting. It wasn't until 2013 that it was torn down and the construction of the Otto Graham Gymnasium began. However, that left her without any facilities for two full school years.
If there was a "hall of fame" for WCS staff members, Anne would certainly be a member held in the highest regard. Over the years she did many special things but one of the most notable was the fundraising activities she did with the students to support important causes. She started charity work when one of her best friends and coworkers was suffering with a serious form of cancer. She would regularly be present with her during treatments and noticed the many sick and elderly people there without anyone to support them. That started a volunteer relationship with the Cancer Center which lasted for decades.
At first, she brought some of younger students to come at holiday time to visit and sing to the patients. That evolved into handing out ornaments and small gifts to them. Anne then started a Volunteer Club which created small fundraisers like bake sales and small gift sales including bracelets, puff-ball figures, chocolate covered treats and many other things that came out of Anne's imagination. The students would regularly tour the campus selling their products to staff to raise more. Dollars, turned into tens of dollars which turned into hundreds of dollars. She regularly began to donate money to the Cancer Center, sometimes in excess of $1,000. Then her causes began to broaden to include the purchasing of housing and goats for folks in Haiti and supporting another teachers' campaign to provide supplies to a class of students in Africa. What is most remarkable – virtually all of the baked goods, bracelets, figurines and other foods and knickknacks were made by Anne, on her own time and at her own expense.
Among her other notable accomplishments, Anne started the DARE program with the Waterford Police Department; she developed and ran winter carnivals (February Olympic games for the kids); she held many annual health fairs for the kids inviting many community providers to provide information and resources; and she worked on the infamous WCS haunted house drawing hundreds of visitors from the community.
In recent years (due to COVID), the morning education department staff meetings went to a virtual format. Each day, the first five minutes featured Anne and some sort of off-the-wall fun presentation to elevate the mood of the entire staff for the start of the day.
So many great contributions, so many great years of service, and so many great relationships with kids and staff… Anne's work at Waterford Country School will never be forgotten.
– written by Bill Martin